Stort Udvalg i Nano Akvarier
Fakta omkring de små nye smarte akvarier. Strømforbruget her efteråret 2022 er omkring 20-50kr pr. måned alt efter model og størrelse.
Home 30 Aquarium
Modern plug and play aquarium with built-in filter and equipped with energy-efficient LED Sunrise Lighting: simulates a natural sunrise, by intensifying the light level slowly to a maximum over a 30 second period. Ideal for Aquascaping.

    25L aquarium
    LED fingertouch operation, lighting with sunrise function
    Built in internal filter Aqua-Flow 100 
    Includes acrylic cover to prevent fish jumping

    Dimensions: 46.5 x 25 x 28.5 cm
    Capacity: 25 litre
    Lighting: 12W LED - 247 PAR
QubiQ 30 LED Black
This is a modern 30L Nano Cube with integrated filter. The filter compartment offers room for a hidden heater (not included).The quality of these small cubes is excellent and in line with Superfish's popular "Home range" of aquariums.

    Nano cube aquarium
    Top cover glass
    Integrated filter
    5W LED Light (10x White 2x Blue)

    Dimensions: 32cm x 32cm x 42.5cm (LxWxH) with Light
    Capacity: 30 litre
Scaper Tank 60
Scaper aquariums are made of Crystal Clear glass, which ensures a crystal clear underwater image. The three models have been specifically developed for Aquascaping, so the dimensions are perfect fro creating beautifully planted underwater landscapes.

Hang on Filter
The perfect hanging filter for aquascape aquariums

Scaper LED lighting
The Scaper LED lighting is tailor made for the Scaper Aquariums. With a high light output for optimal plant growth.

Contents:
   Scaper Tank
    Hang on back Filter
    Scaper LED Light
    Base protection sheet (EVA foam - heat insulating)
    Background foil (black and white side)
    Colombo Flora Grow and Grow Carbo Fertiliser

Volume - 60 Litres
Size - L x D x H  50 x 35 x 35 cm
Lighting - Scaper LED 60, 28 Watt, PAR 269
Filter - Hang on Filter 100 (6 Watt)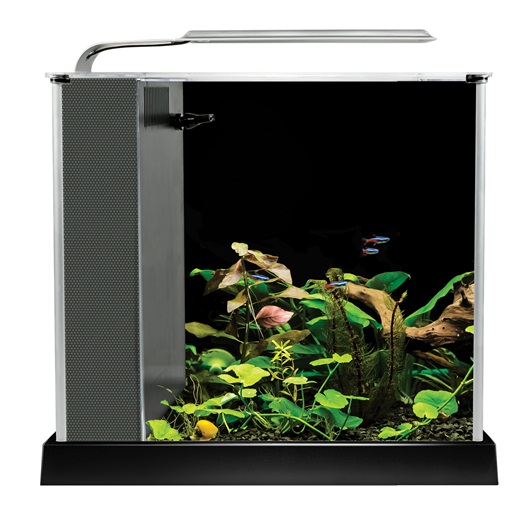 Fluval Spec 3 10 Liter
Vores mindste og samtidig meget smarte akvarie

Filtersystem indbygget på bagsiden samt ny type LED Lys
LED Wat: 10W
32 Stk LED Dioder
LED Lumens: 738 LM
Colour Temperature: 7000K
Mål: 27.5x30x22.3cm

strømforbrug på denne her type, udregnet fra 5kr pr. kW
20-25kr pr måned
Fluval Spec 5 19 Liter
Fluval "SPEC" 19L
Komplet nano akvarie i høj kvalitet med Pumpe og led lys
Bredde: 43,5 cm, dybde: 27 cm, højde: 16 cm

The all-new Fluval SPEC nano aquarium series is highlighted by an upgraded 7000K high-output LED that is 20% brighter than before and framed within a sleek, all-aluminum waterproof casing. Combined with powerful 3-stage filtration and oversized media, SPEC may be small in size, but is certainly big on features.
flex 57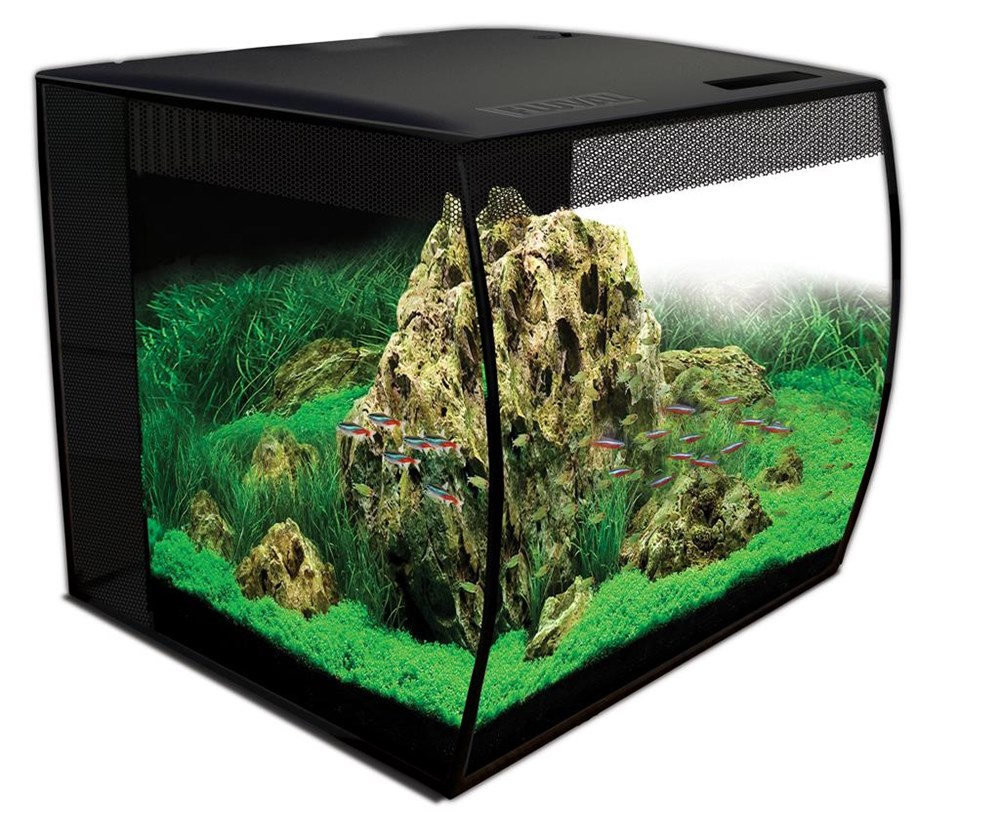 Flex 34L & Flex 57L
Flex nano akvarium serien giver moderne design med sin karakteristiske buede front. Akvariet er også udstyret med kraftige 3-trins filtrering og en infrarød fjernbetjening, der giver dig mulighed for at vælge mellem flere farver og specielle effekter.

Smart LED - 7500 Kelvin
MED FLEXPAD FJERNBETJENING
En praktisk fjernbetjening styrer en bred vifte af rød, blå, grøn og hvid (RGB + W) farver samt sjove specielle effekter, herunder falmet skydække og lynnedslag. Tilpas din akvatiske univers efter dit humør

Model 34 Liter - LED: 7500K 1900Lux
34 x 33 x 33 cm

Model 57 Liter - LED: 7500K 2450Lux
41 x 39 x 39 cm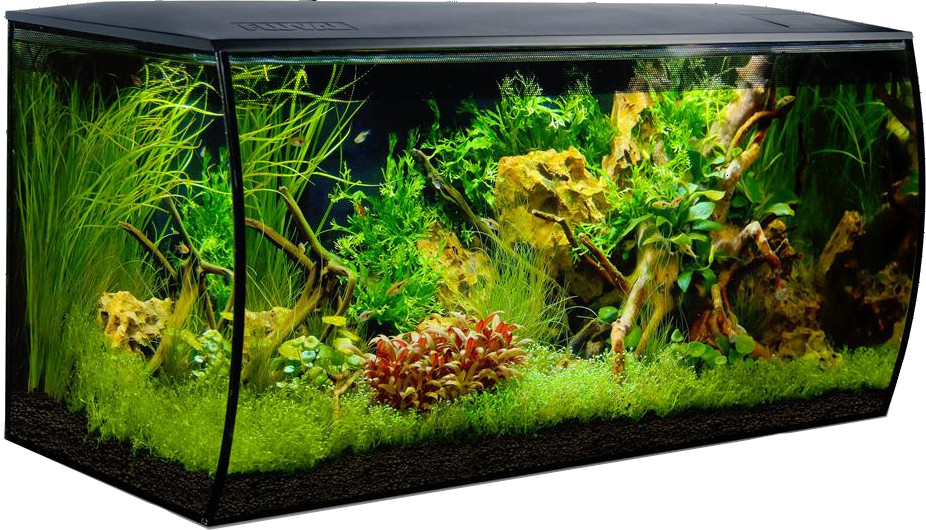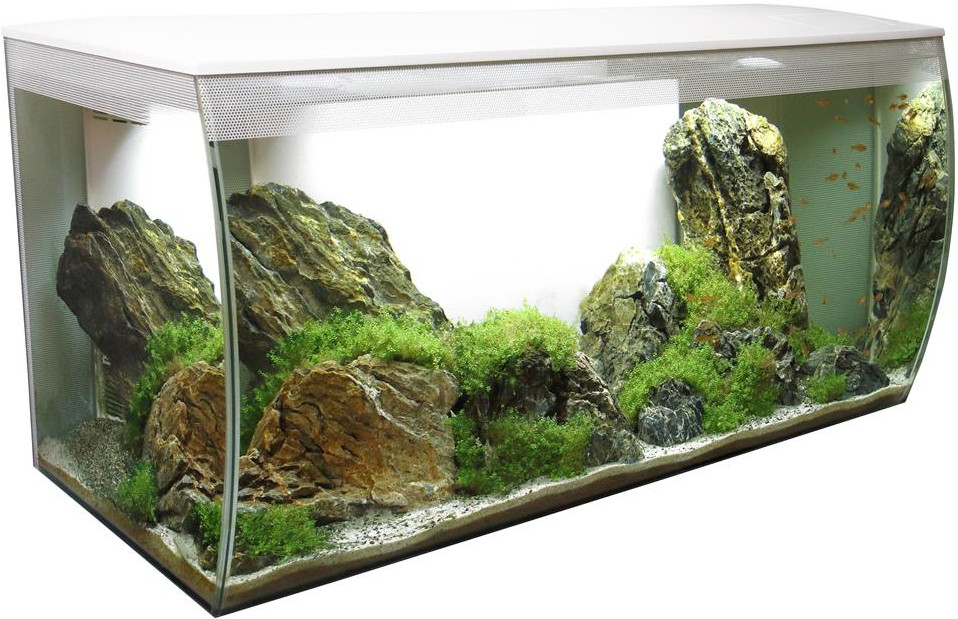 Flex 123L
Super lækkert og flot Fluval Flex akvariesæt på 123 liter
Med det nye Sky LED lys som kan styres fra din smartphone
Mål: 82x40x39 cm
LED: 21W - 7500 kelvin - 1450 Lumen

Customizable lighting featuring app-controlled Aquasky LED technology
3-stage filtration with 2 independent media chambers for superior water quality
Twin output nozzles for customized water flow

The Flex 32.5 US Gal / 123 L makes an exciting addition to Fluval's bold curved aquarium series. It comes equipped with a mobile device operated Aquasky 2.0 Bluetooth LED that offers total control over brilliant custom colors, multiple dynamic effects and a programmable 24-hour light timer. In addition, this all-new Flex includes a built-in filtration system with 2 independent multi-stage chambers for maximum cleaning efficiency.
shrimpset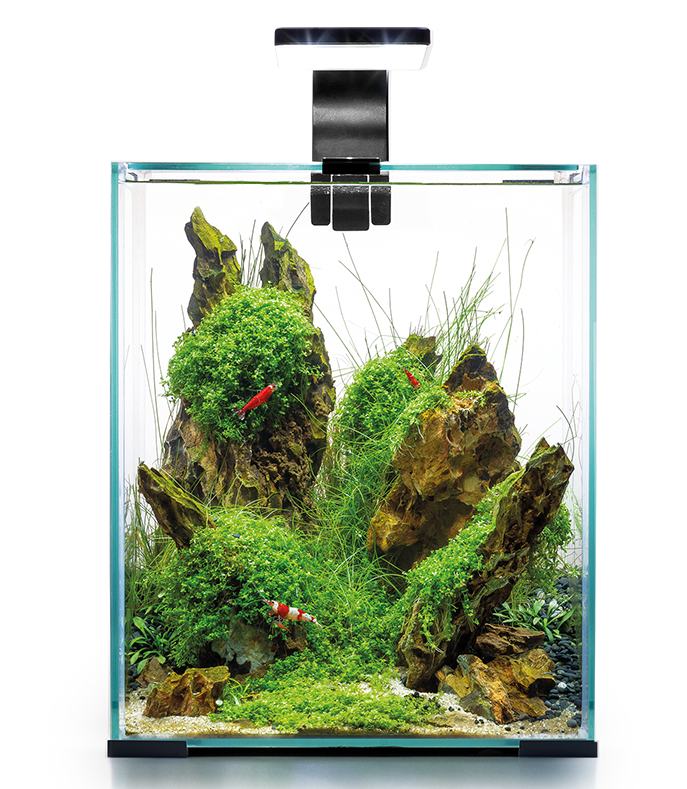 Shrimpset
Aquael Shrimp Set Day&Night
Elegant og moderne nano akvarium med LED belysning, pumpe og varmelegeme

10 Liter - Bredde: 20cm, dybde: 20cm, højde: 25cm
19 Liter - Bredde: 25cm, dybde: 25cm, højde: 30cm
30 Liter - Bredde: 29cm, dybde: 29cm, højde: 35cm
Rød Neon Tetra
Akvarie med Rød neon (Paracheirodon axelrodi), Dværggurami (Trichogaster lalius)